The Holidays are coming up!

Tickets to the NCJF are a great gift for any music lover! Give the experience of world class jazz with over 12 musicians on stage!

The jazz concerts are held at the Hotel Ballast in downtown Wilmington.
---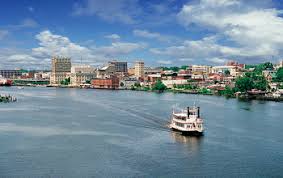 February 1-3 2024
Wilmington gives a warm welcome to all of the jazz lovers attending our 44th North Carolina Jazz Festival! This historic city located on the bank of the Cape Fear River has many interesting shops, art galleries, museums and restaurants, as well as a movie studio, nearby beaches, plus Revolutionary and Civil War sites to explore during your days here. We will fill your evenings with exciting performances by some of the greatest traditional jazz musicians from around the globe!
All evening concerts begin at 7:30 pm and held at the
Hotel Ballast ballroom
Thursday Night Showcase
Thursday night, our "Special Event" night, is when we feature different styles of jazz. This year we will open with The Port City Trio, a Wilmington based group that is well known in the area for the Jewell Family's tradition of playing jazz, blues and pop styles of music. We welcome them to our stage, as they feature their daughter Annie, a violinist who was in our very first masterclass, given by Bucky Pizzarelli and Jonathan Russell. Not giving away ages, but Jonathan was about 12 then, and so was Annie!
Our "main event" for the evening will be The Emmet Cohen Trio. Emmet, a multifaceted young American jazz pianist and composer has emerged as one of his generation's pivotal figures in music and the related arts. Last year he came to Wilmington as pianist for Tootie Heath, who gave a concert at UNCW. The reception by the local jazz community was spectacular, and now we have the opportunity to present Emmet with his own trio as our very special introduction to his "style" of jazz.
The evening's music will come to a close with some of our weekend All-Stars in a Traditional Jazz Jam!
All Evening Concerts Will Begin At 7:30PM
Friday and Saturday Nights
we will continue our celebration with 15 All-Star musicians playing in the traditional seven sets of six or seven players, each set with a different leader. You will see/hear many of our favorite NCJF musicians plus new additions to our lineup. An exciting 44th annual North Carolina Jazz Festival, you will definitely want to be here for it! These will be 4 ½ hour concerts.
Patron Brunch:
On Saturday from 10:30 until 2pm we treat our patrons to a musical brunch, when all of our All-star musicians play for their pleasure while everyone enjoys a delicious brunch. During the last hour we have a "jam" when the patrons who are musicians have the opportunity to play with the All-stars. Fun for all!