GOOD NEWS! NCJF 2022 WAS A HIT !! Our streamed event was viewed by many and can be viewed by many more at anytime, as the button will remain on our website for all to use - at no charge!
CLICK HERE TO VIEW LIVESTREAM
---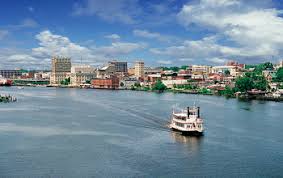 February 2-4 2023
Wilmington gives a warm welcome to all of the jazz lovers attending our 43rd North Carolina Jazz Festival! This historic city located on the bank of the Cape Fear River has many interesting shops, art galleries, museums and restaurants, as well as a movie studio, nearby beaches, plus Revolutionary and Civil War sites to explore during your days here. We will fill your evenings with exciting performances by some of the greatest traditional jazz musicians from around the globe!
All evening concerts begin at 7:30 pm and held at the
Hotel Ballast ballroom
Thursday Night Showcase
Thursday night we will be celebrating the return of The North Carolina Jazz Festival live from our stage at the Hotel Ballast with a jazz-packed evening! Featured in our first set will be the fantastic vocalist STEVE WASHINGTON (from Washington DC), with a trio of our All-Stars, followed by pianist LENORE RAPHAEL with STEVE HOBBS on the vibes. The third set of the evening will be NATE NAJAR's tribute to Charlie Byrd & Stan Getz' introduction of Bossa Nova to the U.S., with JEFF RUPERT giving us his version of Stan Getz' saxophone. The final set for the evening will be PROFESSOR CUNNINGHAM leading some of our All-Stars in a Traditional Jazz Jam!
WELCOME BACK LIVE JAZZ!!! All evening concerts will begin at 7:30.
Friday and Saturday Nights
we will continue our celebration with 15 All-Star musicians playing in the traditional seven sets of six or seven players, each set with a different leader. You will see/hear many of our favorite NCJF musicians plus 4 new additions to our lineup. An exciting 43rd annual North Carolina Jazz Festival, you will definitely want to be here for it! These will be 4 ½ hour concerts.
Patron Brunch:
On Saturday from 10:30 until 2pm we treat our patrons to a musical brunch, when all of our All-star musicians play for their pleasure while everyone enjoys a delicious brunch. During the last hour we have a "jam" when the patrons who are musicians have the opportunity to play with the All-stars. Fun for all!
---
Our local artist for 2023 will be Barton Hatcher!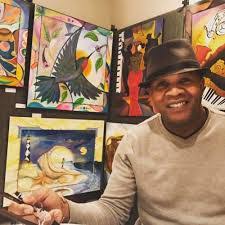 Mr. Hatcher was our NCJF artist in 2017, when his artwork "Kind of Blue" was a great hit with our attendees. We are looking forward to see what he creates for 2021, and thank him for again offering to create and donate a piece "jazz art" for our event. Barton Hatcher – ART FOR THE SOUL "Art should fill your soul with the pleasures that the eyes see"
We can't wait to see what he will create for the NC Jazz Festival!