GOOD NEWS! NCJF 2022 WAS A HIT !! Our streamed event was viewed by many and can be viewed by many more at anytime, as the button will remain on our website for all to use - at no charge!
CLICK HERE TO VIEW LIVESTREAM
DONATE TO OUR MUSICIANS
Here are a few of the responses/reviews that we have received from some who have viewed it:
"The NCJF is synonymous with excellent live jazz every year. Notwithstanding the pandemic, this year proved to be no exception for these amazing musicians. We're looking forward to seeing them in person next year." G.F. Wilmington,NC
---
"Congrats on a terrific stream of the "Festival"……it was wonderful and all involved are to be congratulated! I hope that, financially, it turned out well for the musicians….you were right in your comments it's been a rough time for many of them..as an aside, I have to tell your that Nydia and I were traveling last Saturday and were in a motel with absolutely horrendous Wi-Fi…we discovered if we sat outside it was much improved, so we sat outside with our coats on and my i-pad on my lap.(and, in total disclosure, a glass of wine in our hands….) Again Congratulations and many, many thanks." D.G. (on the road)
---
"Hi Sandy, Thanks to you and Bruce Harris and whoever else was responsible for tonight's live stream. We enjoyed it a lot – not as good as being there in person, but y'all once again did a wonderful job. Please thank all the musicians for us." D.H. & M.M.E from Dayton Ohio
---
"What fun!! The NCJF "Red Hot Jazz" is keeping me warm here in upstate New York!! The many artists (in their own studios or homes) are performing live on u-tube NOW! Tune in!! This is the jazz I love! Congratulations to all of you. Gotta go help them out ($)!" I. H. Queensbury, NY
These are just a few of the many who expressed their pleasure—I thought the event was wonderful---but of course I am biased---and I want to thank all of the musicians and especially Bruce Harris, who was the curator of this production! WELL DONE!! And of course I must mention our traveling musician, Adrian, who gave up a lot to come to our rescue! If you have not watched the 2022 streamed NCJF event, it is available at no charge—just use the button on our website www.ncjazzfestival.org S.E. from N.C.
---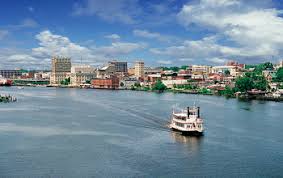 February 2-4 2023
Wilmington gives a warm welcome to all of the jazz lovers attending our 43rd North Carolina Jazz Festival! This historic city located on the bank of the Cape Fear River has many interesting shops, art galleries, museums and restaurants, as well as a movie studio, nearby beaches, plus Revolutionary and Civil War sites to explore during your days here. We will fill your evenings with exciting performances by some of the greatest traditional jazz musicians from around the globe!
All evening concerts begin at 7:30 pm and held at the
Hotel Ballast ballroom
Thursday Night Showcase
Thursday, February 2nd, our Special Event – STYLES OF JAZZ:
Friday and Saturday Nights
Evenings will feature our 13 All-Star musicians in the traditional seven sets of six or seven players, each set with a different leader. These will be 4 ½ hour concerts.
Patron Brunch:
On Saturday from 10:30 until 2pm we treat our patrons to a musical brunch, when all of our All-star musicians play for their pleasure while everyone enjoys a delicious brunch. During the last hour we have a "jam" when the patrons who are musicians have the opportunity to play with the All-stars. Fun for all!
---
Our local artist for 2023 will be Barton Hatcher!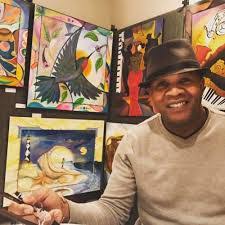 Mr. Hatcher was our NCJF artist in 2017, when his artwork "Kind of Blue" was a great hit with our attendees. We are looking forward to see what he creates for 2021, and thank him for again offering to create and donate a piece "jazz art" for our event. Barton Hatcher – ART FOR THE SOUL "Art should fill your soul with the pleasures that the eyes see"
We can't wait to see what he will create for the NC Jazz Festival!