ABOVE IS THE LINK TO THE LIVE STREAMING OF OUR MINI VERSION OF THE 41ST NORTH CAROLINA JAZZ FESTIVAL.
We are so happy to have been able to bring you a "taste" of our annual NC Jazz Festival via livestream! Next year we plan to be back on the Hotel Ballast ballroom stage with an entire "buffet" of JAZZ!
Thanks to all who invited us into their homes via our Livestream button, Facebook or YouTube. We did not charge for this event, but did ask for donations, which were sent to our 15 musicians who took part in this experiment/extravaganza! The generosity of our audience made it possible for us to send more than $7,000 in checks to these fantastic musicians! Participating were:
On stage at the Chelsea Music Hall in NYC the following musicians (masked and well distanced) played:
Ehud Asherie – piano
Bruce Harris – trumpet
Houston Person – saxophone
Rossano Sportiello - piano
Dion Tucker – trombone
Neal Miner – bass
Aaron Kimmel – drums
Neal and Aaron are new to NCJF. Due to the necessity of many of our musicians who sent their music via video, these gentlemen are joining us on stage. Our thanks to them!
Musicians who sent their music and messages via video from their "bubbles"are:
Herman Burney – bass ( in Winston Salem, NC)
Adrian Cunningham – reeds & flute & dancing shoes (in Barcelona, Spain)
Kevin Dorn – drums ( in NYC)
Nate Najar – guitar (in Tampa FL)
Nicki Parrott – bass (Brookfield, CT)
Chuck Redd – vibes ( in Takoma Park, MD)
Jonathan Russell – violin (somewhere in the Poconos)
Our thanks go to Bruce Harris, who suggested that we have a live streamed event (and who connected the dots/notes for us to view) , Mirrorbox, who produced it (www.mirrorbox.com) and the Chelsea Music Hall (who donated their stage to us for the event.)
NEXT YEAR IN THE BALLROOM OF THE HOTEL BALLAST IN WILMINGTON, NC! We are already selling tickets and patronships to the 2022 event, so we look forward to seeing you there!
---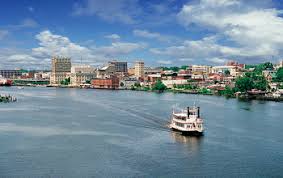 February 3, 4, 5 2022
Wilmington gives a warm welcome to all of the jazz lovers attending our 42nd North Carolina Jazz Festival! This historic city located on the bank of the Cape Fear River has many interesting shops, art galleries, museums and restaurants, as well as a movie studio, nearby beaches, plus Revolutionary and Civil War sites to explore during your days here. We will fill your evenings with exciting performances by some of the greatest traditional jazz musicians from around the globe!
All evening concerts begin at 7:30 pm and held at the
Hotel Ballast ballroom
Thursday Night Showcase
Thursday, February 4th, our Special Event – STYLES OF JAZZ:
The Steve Washington Trio
Lenore Raphael Trio
Surprise Bonus Set
Professor Cunningham's Traditional Jazz Jam
Friday and Saturday Nights
Evenings will feature our 13 All-Star musicians in the traditional seven sets of six or seven players, each set with a different leader. These will be 4 ½ hour concerts.
Patron Brunch:
On Saturday from 10:30 until 2pm we treat our patrons to a musical brunch, when all of our All-star musicians play for their pleasure while everyone enjoys a delicious brunch. During the last hour we have a "jam" when the patrons who are musicians have the opportunity to play with the All-stars. Fun for all!
---
Our local artist for 2022 will be Barton Hatcher!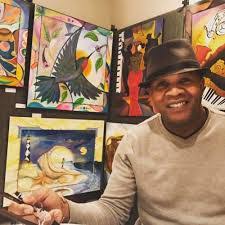 Mr. Hatcher was our NCJF artist in 2017, when his artwork "Kind of Blue" was a great hit with our attendees. We are looking forward to see what he creates for 2021, and thank him for again offering to create and donate a piece "jazz art" for our event. Barton Hatcher – ART FOR THE SOUL "Art should fill your soul with the pleasures that the eyes see"
We can't wait to see what he will create for the NC Jazz Festival!