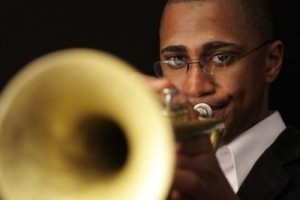 Bruce Harris' affinity for music began as a child listening to his grandfather play the alto saxophone. After seeing Spike Lee's "Mo Better Blues", his intrigue with the trumpet grew and his relationship with his instrument has been star-crossed since. He studied at the Conservatory of Music at Purchase College under the guidance of Jon Faddis. He has been privileged to perform with stars like Marcus Strickland and Dave Brubeck.
Bruce leads his own quartet in many jazz venues around NYC and is an active member in the Winard Harper Sextet and Kendrick Oliver's New Life Jazz Orchestra. His eclectic tastes are evident in the variety of bands he performs with, including Latin and Blues styled groups.
An active educator, Bruce teaches private lessons and at clinics throughout the Tri-State area.