Friday and Saturday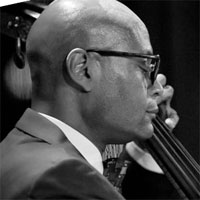 Herman Burney is a native of Washington, DC, but was raised in the arts-nurturing state of North Carolina where he grew up listening to Mahalia Jackson, Aretha Franklin, and James Cleveland.  During his early years Herman played clarinet, drums and tuba and later took up electric bass for a "hard-core funk group" in high school.  After meeting jazz titan George Duvivier in 1987, Herman finally settled on his beloved double bass.
Herman has traveled all over the world to establish an impressive list of performance credentials as bassist for Nneena Freelon, Marcus Roberts, Freddy Cole, Natalie Cole, Wynton Marsalis, Frank Wess and many others of equal renown.  Since returning from tours in Japan and Russia,
Herman has been mixing his 1st and 2nd cds—First was titled "First Fruits", the second- "Offering" – which was released in 2011, contains mostly original tunes.  When Herman is "at home" he is teaching at George Washington University and the Sitar Arts Center in D.C.