Thursday, Friday and Saturday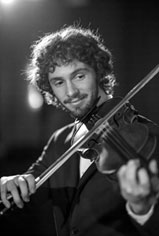 Jonathan Russell is an award-winning musician who moves audiences through improvised jazz and genre-bending American roots music. In addition to performing regularly throughout New York City he composes music that adds compelling experiences to visual media.
His critically acclaimed jazz performances in Europe and throughout the United States, at clubs and festivals such as the New Orleans Jazz and Heritage Festival and the Bohém Ragtime & Jazz Festival in Hungary, have earned the respect and praise of seasoned jazz musicians Wynton Marsalis, Bucky Pizzarelli and the late Les Paul.
His film score credits include work on the controversial Bollywood release "Aarakshan", as well as numerous commercial, web and new media releases. He is currently at NYU studying composition with Justin Dello Joio and classical violin with Dr. Cyrus Beroukhim.