Performing Thursday, Friday and Saturday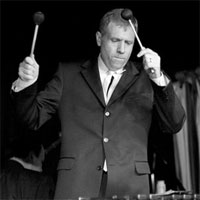 Chuck Redd is an accomplished performer on both drums and vibraphone. Chuck began performing and recording internationally when he joined the Charlie Byrd Trio at the age of 21. He also joined the Great Guitars (Barney Kessel, Charlie Byrd and Herb Ellis.) To his credit are 22  European tours and five tours of Japan, with the Barney Kessel Trio, Ken Peplowski, Terry Gibbs and Conte Candoli. He served as Artist-In-Residence at The Smithsonian Jazz Café in Washington, DC from 2004-2008.
In 2007 Chuck was featured with the prestigious "Milt Jackson Tribute Band". Other recent engagements include jazz cruises in the Mediterranean, stints with Bucky Pizzarelli and Ken Peplowski at Dizzy's Club (Jazz at Lincoln Center) and headlining with his trio at The River Room of Harlem and performances at Smalls in New York City. He has toured and performed with Dizzy Gillespie, Mel Torme, Tommy Flanagan, Dick Hyman, Ray Brown, Monty Alexander, Laurindo Almeida, Tal Farlow, Red Norvo, Scott Hamilton, Mickey Roker and Frank Vignola.
In addition to leading his own groups, Chuck was a member of the Smithsonian Jazz Masterworks Orchestra for 15 years. He frequently performs in New York City and headlines nationally at festivals and clubs. Chuck is on the faculty at The University of Maryland School of Music and presents master classes, workshops and lectures around the country.
His Arbors CD "Happy All The Time," is a critically acclaimed tribute to his mentor, Barney Kessel and features Monty Alexander, Jeff Hamilton and Howard Alden. Chuck's Noteworthy CD, "When Redd is Blue" is a collaboration with his brother Robert, featuring saxophonist Harry Allen. Chuck's new Arbors release, "The Common Thread" features Mickey Roker, Bob Cranshaw,Houston Person and Rossano Sportiello.