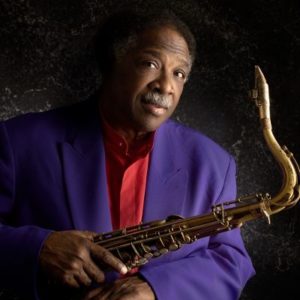 Houston Person's style as a tenor sax man runs between gruff and genial, 30 years of polishing his blend of hard bop, songbook fare and rhythm and blues. For much of his career, he played side by side with the great Etta James, and from that partnership, gleaned an insight into finessing the melody of a tune, much like a vocalist would.
As a child, growing up in Florence, South Carolina, Person started on the piano, but soon switched to the tenor saxophone. He studied at South Carolina State before being stationed in Germany during a stint in the US Air Force. There, he was lucky enough to play with Eddie Harris, Cedar Walton and others. Returning to the States, he continued his music studies at the Hartt College of Music in Hartford, Conn., before joining Johnny Hammond's band, where he met Ms James. Person has over 75 albums where he is the bandleader to his credit.
In 1999, Houston was inducted into the South Carolina State's Hall of Fame. In 2018, he recorded the sixth album of duets with bassist Ron Carter for the High Note label. We have had to wait several years to get Houston Person back on the NC Jazz Festival stage because he is a regularly featured artist on THE JAZZ CRUISE. This year that cruise will be the first week in February and our dates are prior to that!