Performing Thursday, Friday and Saturday nights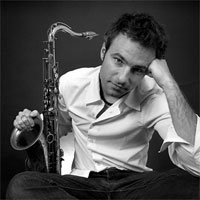 Adrian Cunningham, the multi-instrumentalist, is a Sydney native and one of the most in-demand free-lance musicians in Australia and now in New York.  He has performed at the Montreaux Jazz Festival in Switzerland, at festivals and private clubs across Europe, and in Asia and Africa.  He now lives in "jazz central"—New York City.
Adrian has released four albums as bandleader with his working Australian Quarter, and a Benny Goodman centennial tribute DVD, "With All Due Respect", which was recorded live at the historic Orpheum Picture Palace in Sydney.  His songs have been featured on the inflight program on Quantas' domestic and international flights and receive significant airplay on radio stations.
A member of two other Australian jazz groups, the Galapagos Ducks and the Sydney All-Star Big Band, Adrian is now performing in downtown Manhattan and Harlem with such notable artists as drummer George Coleman Jr. and cornetist Ed Polcer.  His latest CD, Professor Cunningham and His Old School Group, is a great tribute to many New Orleans favorites.